FEATURED LISTINGS - SEARCH MLS - REQUEST ASSISTANCE


Riverview Real Estate & History
Riverview is an unincorporated community located along the I-75 corridor just thirty minutes from Tampa and only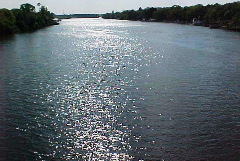 fifty minutes from Bradenton's beaches. Originally referred to as "Peru," the area was home to Tocobaga Indians for centuries. In 1856, Peru was founded on the Alafia River's south shore. The river's name, Alafia is translated into meaning "River of Fire," and was given due to the phosphorus on the early river bottom that glowed during the night. The name Peru was given because of the Indian meaning "straight part of river." The Peruvian Mining Company, which mined phosphate from the Alafia River, took its name from the settlement of Peru. Settlement began on the north side of the Alafia River during the 1890´s and was referred to Riverview. The region´s first school was built in 1893 and the two communities were connected by a river ferry. Shortly thereafter, a bridge was constructed and a post office established. The post office periodically was moved from one side of the river to the other and back. The relocation of the post office back and forth caused much distress and eventually (in the early 1940´s), the Riverview side won out and the name Peru slowly went out of use. Some of the region´s early settlers include the Barnes, Bourgees, Boyettes, Buzbees, Hackneys, Hartleys, Mansfields, Moodys, Scotts, Thompsons, Whitts, and the Yeomans.
Riverview Today
The community of Riverview is blessed with breathtaking natural beauty and numerous resources. Today, it is a progressive community whose residents enjoy the many activities a river provides, including boating, fishing, swimming, and canoeing. With a year-round population of about 42,000, the community has seen much change in the past few years. Economically the region is strong, but the area still provides a wonderful small town atmosphere. The public schools are part of the Hillsborough School District and Riverview High School has garnered the reputation for providing strong academics and sports programs. There are five elementary schools and one middle school in Riverview.
Riverview real estate options include both older single-family homes and upscale single-family homes, condominiums, townhouses, and land lots which are available for custom home building. Real estate value range from right around $100,000 on up to over $2 million, with buyers having the opportunity to choose from expansive waterfront homes with many amenities. From the bubbling natural springs of Lithia Springs State Park to its excellent school system, Riverview has much to offer. Both families and investors are sure to find that Riverview real estate has much to offer.