​FEATURED LISTINGS - SEARCH MLS - REQUEST ASSISTANCE

Apollo Beach Real Estate & History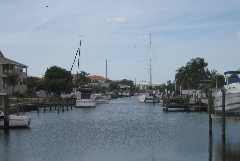 ​Apollo Beach is an unincorporated waterfront community that is conveniently located approximately 12 miles South of Tampa on I-75 at exit 47. Named after the mythical Greek God, Apollo Beach´s history dates back to 1923. In its early years, the area was used annually for farming and grazing pasture. The Dickman family had purchased the real estate sometime during the 1920´s. Paul Dickman had the idea to create a waterfront community, but it wasn´t until the early 1950´s that his idea started to become a reality. The Dickmans hired an engineering firm in Miami and began to design roads, canals, recreation areas, schools, and more. Later, Paul Dickman entered into a development agreement with three New Yorkers, Turner, Dean, and Clark, who came up with the name, "Tampa Beach." They believed the name would attract more people. Development began on the Flamingo Canal and proceeded toward Fairway Boulevard with the intention to extend the canal to Tampa Bay. The task was too much for three New Yorkers and in 1956, they notified Mr. Dickman that they could not finish the project. Sometime during 1957, a business man from Michigan, Francis Corr, was approached to continue the development of the land. After months of negotiations between Dickman and Corr, Corr purchased 5,500 acres. Shortly thereafter, Corr started developing 50 homes in the area between US Highway 41 and Golf and Sea Boulevards. In early 1958, Corr entered into a development agreement with Robert E. Lee, a South Carolina contractor to help finish the project.
As the community´s primary developer, the Corr family changed the name from Tampa Beach to Apollo Beach. In the early 1960´s, Francis Corr had a heart attack and decided to sell his company and the Apollo Beach land to Flora Sun Corporation, a Miami Company. Because the Flora Sun Corporation failed to make payment for the real estate and ended up filing for bankruptcy seven years later, the Corr family ended up getting the land back. The Corr family continued to struggle with the development of the waterfront community and even donated land for parks and schools to the government. Thomas Corr, Francis Corr´s son, continued the development project and went on to build a community bank, chamber of commerce, and civic clubs throughout the 1970´s and 1980´s. After a long developmental struggle, Apollo Beach became a beautiful place where residents can enjoy many outdoor recreational opportunities, while living in a small-town friendly atmosphere.
Apollo Beach Today
Today, Apollo Beach provides a waterfront lifestyle unlike anywhere else in Hillsborough County. The area´s best known characteristics are its fifty-five miles of navigable canals that average a depth of seven feet. With recent real estate growth in residential and business, Apollo Beach´s 8,000 residents can enjoy a variety of different homes styles to choose from and great shopping. While a relatively small community, the area is very popular among boater and outdoor enthusiasts who come to area to enjoy all Apollo Beach has to offer, including two marinas, the Apollo Beach Golf and Sea Club, canoeing, horseback riding, and more. There are two large recreational facilities nearby, Little Manatee River State Park and E.G. Simmons Regional park where fishing, boating, swimming, camping, picnicking, and exploring can be enjoyed. Only 30 minutes away, residents of Apollo Beach can take advantage of all that the Bay area has to offer, including Busch Gardens, the Tampa Museum, the Tampa Aquarium, the Museum of Science, and historic Ybor City where wonderful shopping venues can be found.
Apollo Beach real estate opportunities include a variety of single-family home styles, waterfront properties, condominiums, townhouses, and vacate land. A number of exquisite waterfront homes with private docks and lush tropical foliage are situated along the canals. Most of the residential real estate offerings provide docking facilities. Single-family home prices start at around $200,000 and go up to well over $1 million. There are two gated communities, Andalucia which offers a clubhouse and private marina and lighted tennis courts, and Symphony Isles where residents have their own private beach. Truly a home seeker´s paradise, most of the homes provide breathtaking water and scenic views. Apollo Beach is certainly a place where one can truly enjoy the best that Florida has to offer!